Crowns in San Francisco, CA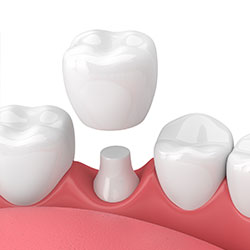 A crown is a full-coverage, lab-made restoration that acts as the outer surface area of the tooth to hold the tooth structure together. A crown may be necessary if you have a broken tooth, a very large filling with additional decay, a worn down tooth, a root canal treated tooth, or a cracked tooth. Crowns can also be used cosmetically to correct a short or discolored tooth.
Types of Crowns
Dr. Shirvani offers several types of crown material, available at our San Francisco dental office. The right crown material for you will depend on the tooth location, priority of aesthetics, and ideal function.
Full gold: Ideal for shorter crowns or heavy grinders
Full ceramic: For the combination of aesthetics and strength
Layered zirconia or emax: Aesthetic options where strength is secondary
Porcelain fused to metal or zirconia fused to porcelain: Perfect for strength and durability
Your Crown Procedure
Crowns require two office visits to My Dentist San Francisco. During your first appointment, Dr. Shirvani will remove any decayed portions of the tooth, build up the tooth if needed, prep the tooth for the crown, take an impression for the lab, and place a temporary crown.
Dr. Shirvani is fortunate to have one of the best ceramicists in town right next to our office! He will take the impression of your mouth and create a crown that matches the surrounding teeth and looks as natural as possible.
The crown placement procedure itself is generally very pleasant, with a fast prep and several breaks in between. Dr. Shirvani will insert the crown, checking the color, shape, bite, and fit. If everything is acceptable, we will cement the crown, and your smile restoration will be complete!