San Francisco Dental Implants
People are living longer than ever, and while regular brushing, flossing, and checkups allow many of us to maintain our natural smiles for a lifetime, sometimes our teeth just can't keep up. If you've lost a tooth (or a few teeth) due to injury or disease, dental implants can rejuvenate both your smile and your oral health.
An implant is a synthetic tooth root in the shape of a post that is surgically placed into the jawbone. The "root" is usually made of titanium: the same material used in many replacement hips and knees, and a metal that is well-suited to pairing with human bone. A replacement tooth is then fixed to the post. The tooth can be either permanently attached or removable. Permanent teeth are more stable and feel more like natural teeth.
The ideal candidate for implants is a non-smoker who has good oral health, including a sufficient amount of bone in the jaw, and healthy gums with no sign of gum disease.
Single or Multiple Implants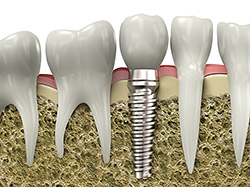 Implants are versatile. If you are only missing one tooth, one implant plus one replacement tooth will do the trick. If you are missing several teeth in a row, a few strategically placed implants can support a permanent bridge (a set of replacement teeth). Similarly, if you have lost all of your teeth, a full bridge or full denture can be permanently fixed in your mouth with a strategic number of implants.
Advantages Over Dentures or Bridges
Conventional bridges and dentures are not fixed to the bone, and can therefore be unstable. This can make it difficult to eat or smile with confidence. Implants not only look more natural, but feel and act more like normal teeth, with a stronger biting force. And because they don't directly rely on neighboring teeth for support, implants don't compromise the health of your natural teeth. In fact, bridges are only expected to last seven to ten years, even less with root canals, whereas implants will typically last a lifetime.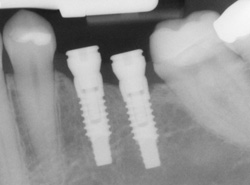 Post-Treatment Care
Consider your replacement teeth to be the same as natural teeth. They require the same daily brushing and flossing, and the same amount of regular checkups. Just like your natural teeth, the better you take care of your replacements, the longer they will last.
Dental Implants FAQ
Q: How long do dental implants last?
A: Dental implants are sturdy and made from a mixture of different alloys that is not susceptible to disease or decay. Therefore, they will last a long time as long as the mouth and gums are healthy, as this is necessary for the implant to be successful.
Regular mouth care, dental checkups, and teeth cleaning will help the teeth and gums stay healthy. Although every patient is different, with proper dental care, your implants should last 10 - 20 years before needing to be replaced.
Q: What is the success rate of dental implants?
A: Although it varies from patient to patient, for healthy patients who receive regular dental care, implants generally have a 90 - 95% success rate. If you take good care of your teeth and see your dentist often, you should have good success.
Q: What is All-on-4®?
A: All-on-4® is a trademarked treatment procedure that essentially involves replacement of all missing teeth in one jaw using only 4 implants. This procedure specifically benefits patients with significant bone loss in the back areas of the mouth.
Q: Can dentures be made into implants?
A: Dental implants are metal screws attached to the jawbone to support dentures. Normally, an overdenture would be made for the implants, but if you currently have dentures, ask your dentist to examine your current dentures for the possibility of using them with the implants.
Q: Are dental implants removable like dentures?
A: No, dental implants are fixed solidly in the bone and allow teeth to be replaced in a manner that is closest to natural teeth.
Q: Can dental implants help if I have full dentures or partial dentures?
A: Dental implants are used to provide support for a removable overdenture, which snaps onto the implants and creates a stable base. They feel more like your natural teeth because they do not slip or move, or require dental adhesives to stay in place. Implant-supported prostheses can be removable or fixed wraparound bridges, depending on the type and material used. Fixed implant-supported bridges are permanent and can only be removed by a dentist for cleanings. The prosthesis can be made of many different materials depending on each person's needs and conditions, and this has to be discussed with the dentist after considering all the contributing factors.
Q: Does insurance cover the cost of implants?
A: The cost for implants can vary greatly, depending on how many teeth are being replaced (a single tooth versus a full mouth restoration). A lot will depend on the bone quantity and region, as well as other factors. Certain insurance plans may cover some percentage of dental implant costs, but it will depend on your insurer and your coverage. We can always pre authorize any claims to get a rough estimate of covered benefits.